Proudly Serving the Kansas City Metro
Request a Free Consultation
Contact Me
To Get Started
Ready to Help
You Seek Results
My experience ranges from misdemeanor through felony charges and spans traffic violations, drug charges, and DUI cases. I serve a wide demographic of clients, from individuals to families, but just because I cast my net wide does not mean anyone falls through the cracks. I understand that we all have moments we wish could have been different. It doesn't matter what crime you've been accused of; you deserve dedicated and compassionate counsel that will strive to provide the best possible outcome for your situation.
While my primary location is in Lee's Summit, Missouri, I am proud to offer my services to the neighboring areas of Kansas City, Independence, and Sugar Creek. Representation is only a call or a click away. I am and always will be here to serve individuals and families in Kansas City with the utmost professionalism and integrity they not only expect but deserve.
Criminal Defense & Traffic Offenses Attorney in
Lee's Summit, Missouri
Traci Fann
Attorney at Law
I started practicing law in 1990 and started my own firm in 2014. During my career, I have been dedicated to bringing clients and families the assurance they need. I make no promises, except that you will be represented to the best of my ability. I also pull no punches in making sure you have all the details and resources you need to fight your case and make informed decisions.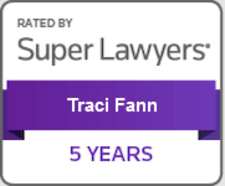 Why Work With Me?
Personable
Service
Facing legal charges can be daunting. That is why I focus on remaining approachable and sympathetic during this difficult period. I am here to make sure you have a trustworthy ear and a shoulder to lean on.
Decades of Experience
Having practiced since 1990, I have decades of experience under my belt. I take the time to communicate the knowledge I've gained over the years so that you know what choices and resources are available.
Straightforward Advice
My knowledgeable background means you do not miss a beat. I give straightforward advice so that you will never have to wonder if you missed any crucial information relevant to
your case.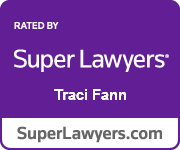 Testimonials
Hear from My Clients
"Traci did exactly what she said she would do! She took care of my legal stuff with no hidden fees or request. I would definitely recommend her to anyone seeking legal aid!!"
"Had two tickets I presented with her upon a Friday back a year or two ago and everything was handled Monday morning! Fast and efficient."
"Traci Fann represented me she was very professional. She kept great communication & handled it for me. I highly recommended her."
Offering Compassion
& Collaboration
Facing legal charges can be stressful, frustrating, even frightening. It is easy for personhood to feel lost in the shuffle of a court case. Even if you have outside support, facing a legal battle is a lonely fight. I am here to make sure you do not have to face everything on your own. We will collaborate on your case, so your day in court follows the rules of the law, all set forth for you to pursue justice accordingly and fairly.
Blog
The 5 Secrets to Cheating Court Traffic
Have you pled guilty to any type of traffic violation recently, or in the previous 1 to 2 years? Learn how you can navigate traffic court with help from a skilled attorney.
READ MORE
Why You Should Refuse the Standard Field Sobriety Test (SFST)
Did you know that you're giving your local police extra evidence to build up a case against you, while in court, when you choose to take the sobriety test (SFST)?
READ MORE
Being charged with a crime can have a serious effect on your life. The consequences are even more severe if you are convicted of the crime. To protect your future and your freedoms, it is crucial to hire an experienced criminal defense attorney. If you have been charged with a criminal felony or misdemeanor, schedule a free consultation today to learn how I can help.
I also represent clients with traffic violations. I can defend you if you have been charged with a DUI/DWI, careless driving, and even stop sign violations. There aren't any traffic issues too big or too small for me. Contact me to find out how I can help protect your record and your license. I am proud to serve the Lee's Summit, Missouri, community, and the surrounding areas of Kansas City, Independence, and Sugar Creek.